Features
Start accepting orders today with a fully customized and branded online ordering solution.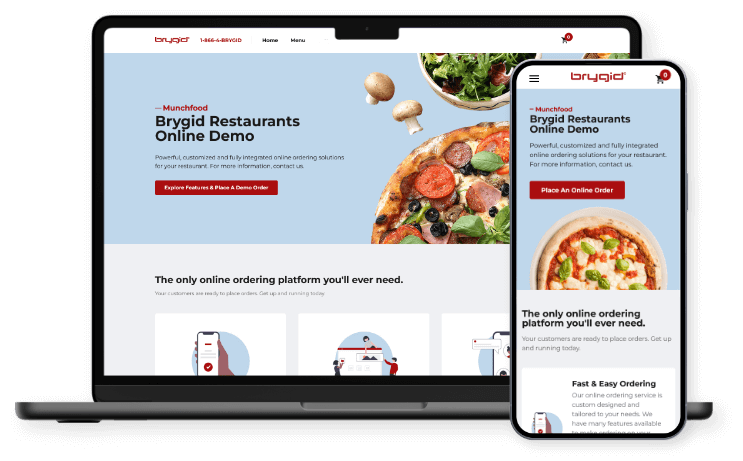 Our Advantages

A Feature Rich & Extensible Ordering Platform

Significantly increase online traffic & ticket sizes with a custom branded online ordering website. From large restaurant chains to simple "Mom & Pop" shops, we've been contributing to the success of restaurants across North America for over 20 years.
See Our Features
Our online ordering service is custom designed and tailored to your needs. Our extensible platform is full of features to make ordering on your website quick and simple. Explore them today!
Custom Branded Website
Let us craft you a website that's intuitive, easy to use, and meets your vision for presenting your brand online. If you already have an existing site, we can simply match the look and feel, providing a seamless transition to the online ordering for your customers.
Point of Sale Integration
Brygid's platform provides the ability to integrate with any POS system capable of receiving orders via the internet. With support for multi-PLU functionality per item, toppings, sizes, half & half, and quarter pizza ordering. We have partnered with a number of POS vendors to provide integrated ordering solutions.
Advanced Item Customization
Complex pricing calculations for setups involving buy one get one free, buy one get one half off, charge the most expensive half and many more! Customize items with additional toppings, removals and substitutions and offer half & half, one third and quarter pizza options.
Marketing, Loyalty & Gift Cards
Brygid has partnered with a wide selection of marketing platforms such as eWord of Mouth, Paytronix, Fishbowl, GiveX, and Gift Rocker. Giving you freedom of choice when it comes to how you would like to market and grow your business.
Flexible Payment Processing
We are partnered with many credit card merchant processors to provide payment solutions that securely handle all payment transactions. We adhere to the latest encryption and security standards to ensure you and your customer's information is always safe. All payments are processed directly through your merchant processor. Brygid never holds or handles any of your money.
Suggestive Selling
Increase your ticket sizes and maximize sales through suggestive selling. Have customers order more by recommending complimentary menu items, special deals or extras using pop-ups and strategically placed promotional graphics.
Comprehensive Delivery Area Enforcement & Support
Third-Party Delivery
Brygid is fully integrated with DoorDash Drive, Uber Direct & Postmates. Utilize these services to fulfill those delivery orders that you can not handle in-house, all while maintaining full control over the presentation of your brand. Customers place their orders directly through your website and therefore are never distracted by the competition.
In-House Delivery
For in-house deliveries, our platform will ensure that none of your valuable time is wasted dealing with orders outside of your delivery area. There are a number of enforcement features available such as Google Maps™, Street Database and Zip/Postal Code enforcement to meet a variety of your needs.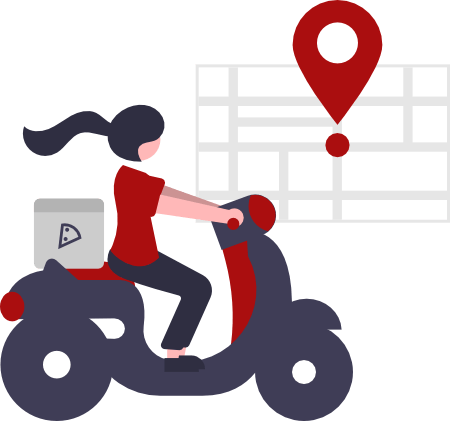 Cart Sync
Our Cart Sync feature will verify last minute item availability and match prices directly with supported Point of Sale systems in real-time. Inform customers when items become out-of-stock & validate their order before checkout. No more disappointed customers when you call to inform them that their order can't be completed as ordered.
No Forced Sign Ups
Increase conversion rates with optional account creation and login for your customers. Customers have the ability to checkout as guests for quick and easy ordering, or create and log in to an account. Online ordering should always be easier and faster than picking up the phone.
Analytics Tracking
Track the effectiveness of your Google AdWords™ online marketing campaigns. Measure user interactions, transactions and revenue data, collected using Google Analytics™ E-Commerce Tracking. These types of tools are indispensable for restaurant owners today and are supported by our platform.
Order History
Customers can save their favourite meals for quick & simple ordering in the future, or view their order history with their own personalized account. With or without an account, Brygid has it covered.
Enhanced Coupon Support
With our platform you get one of the most robust and advanced couponing features available in the industry today. From manual, auto-discover and third party coupons, we have the pricing logic that is necessary to help you create the perfect promotion for your customers.
Combo Maker
Simplify your menu and the ordering process by combining various food items and making them into a combo. Customers can order a full meal, customized exactly to their liking, with our intuitive step by step process.
Order Throttling
Take control of your online order volume with our Order Throttling tool. Set order limits on your busiest days, during peak hours or even in 15 minute increments. Ensuring your order volume never exceeds the kitchen's ability to fulfill orders on time.
Group Ordering
Office lunches and group meetings have never been easier. With group ordering a customer can invite any number of guests to place an order individually, which we will then submit to your store as a single order. Group ordering is ideal for a large group of people getting their order just the way they like it.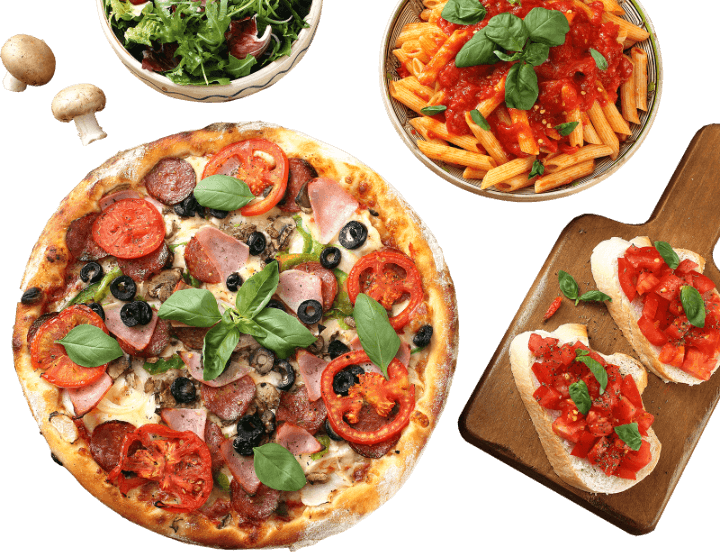 Get All Of These Features And More for
Free!
*
Every restaurant has different needs and requirements, and at Brygid we believe that pricing for your restaurant should be dependent on your needs, and not of your competitors. That's why we offer variable pricing plans to suit the needs and integration requirements of each individual restaurant. Contact us today to get a quote, or even to see how you might be able to utilize our services for free.
Get A Quote